Last Update: 4 - 06 - 2014 | Next update due: 4 - 12 - 2014
What is the Stanton Trophy?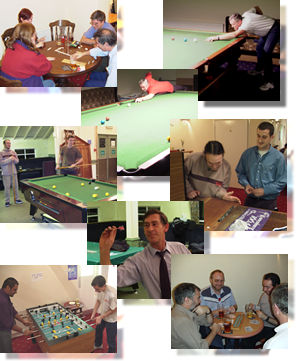 Since 1933, the Stanton Trophy Competition has been awarded to the overall winner of a series of interdivisional sporting competitions that are held annually. The competition has become part of the social fabric of the various organisations that occupy our Teddington site.
Not only do these competitions give everyone a chance to enjoy the various sports available at the NPL Sports Club, they provide an opportunity for staff, located in different organisations and in widely separated parts of our large site, to meet one another socially. An additional benefit is the chance to discover new talent for the sports club.
Many a star of the NPL Sports Club first realised their latent potential whilst playing in the often light-hearted, but always fiercely contested, Stanton Trophy Competition.
To compete, a person must be a member of one of the different organisations based on this Teddington site. There are two exceptions to this. The first is that, historically, there have been far fewer women than men working in the various organisations and, in an attempt to redress this imbalance, female partners/relatives are sometimes allowed to take part. The second is that members of staff who have retired are allowed to continue to compete in all the events.
The overall competition is controlled by a small sub-committee, chosen by the Stanton Trophy Convenor, who is an elected member of the NPL Sports Club. Apart from the day-to-day running of the competition, this committee ensures that the rules and composition of the competing divisions respond to the ever-changing structures of the component organisations.
The individual competitions are run by an event organiser, who is sometimes nominated by the relevant Sports Club section, but it can be anyone on site who is willing to have a go. The event organiser first writes to the divisional representatives, who identify the person in their division that will take the responsibility for getting a team out for the matches and liaising with the divisional organisers of the other divisions.
When each event is finished, the event organiser sends the results to the Stanton Trophy Convenor, who then allocates points to the competing units according to the current Stanton Trophy points scheme. The event organiser can run that competition in the way that he/she considers best. If disputes arise, which are not covered by the rules of the sport or the organiser's own local regulations, they are resolved by the Stanton Trophy Committee.
The various laboratories are currently divided into five teams competing in eleven different events.
Each Stanton Trophy season runs from June to May and is formally brought to a conclusion at the NPL Sports Club AGM, when the Club President presents the winners of the various competitions with the relevant cup or shield and the Stanton Trophy Cup to the overall winners - the unit with the greatest number of points.